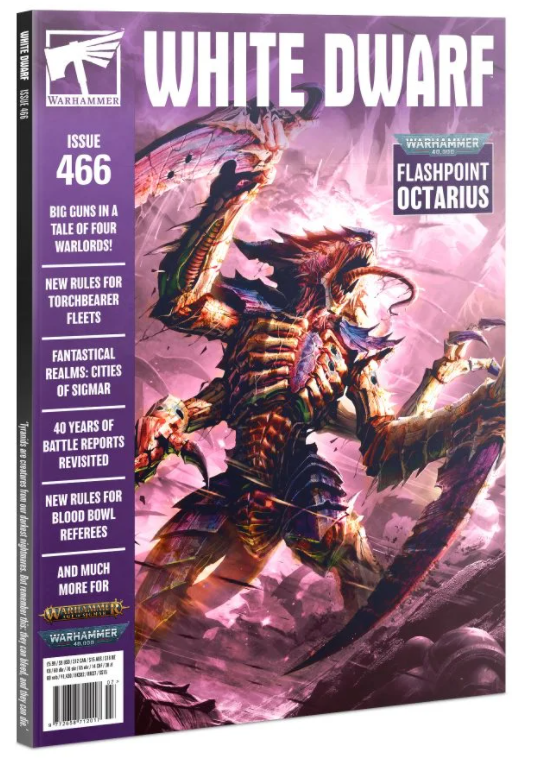 Warhammer: White Dwarf Magazine Issue 466
Sale price
$10.20 CAD
Regular price
$12.00 CAD
Warhammer: White Dwarf Magazine Issue 466
White Dwarf is Games Workshop's premium Warhammer magazine, packed with amazing content each month such as new rules and background, short stories, regular columns, special guests, and more.
Here's what you can look forward to in July's issue:

Contact!
Letters, painting advice, and beautifully painted miniatures. Plus a gallery of super-shiny Adeptus Custodes.
Worlds of Warhammer
Phil takes a long, storied, and celebrated look back at the legendary career of the mighty Jervis Johnson.
An Eternity of Wargames
Ever tried to write a complete history of the games Jervis has worked on over the years? Well, we did. It took ages.
The J Files
Rules of Engagement has been taken over! Jervis returns for his very last J Files (sob, cry, and sniffle).
Temporal Distort
Jervis joins us once more for a journey through space and time to revisit some of his favourite White Dwarf Battle Reports from over the last 40 years.
Inside the Studio
We talk about some of the models we've painted and the games we've played over the last month.
WARHAMMER 40,000

A Tale of Four Warlords
The warlords smash the 75 Power barrier with their latest Crusade creations.
A Light in the Darkness
A look into the clandestine operations of the Indomitus Crusade's Torchbearer fleets.
The Hunt for Mhorwen
The Adeptus Mechanicus and Custodes team up to hunt down a missing Space Marine Chapter in this short story.
Torchbearers Crusade Force
New Crusade rules for fielding a Torchbearers army. Includes new Battle Traits, a Chapter Tactic, Agendas, Requisitions, and Relics.
Paint Splatter: Emissaries Imperatus
A handy stage-by-stage painting guide for the Emperor's golden guardians, the Adeptus Custodes.
Echoes From the Warp
Having trouble picking your secondary objectives? Not sure if you should just kill stuff instead? This article by Robin Cruddace may help you decide…
WARHAMMER 40,000 FLASHPOINT: OCTARIUS
- Blood and Snow
The Octarius Sector comes under attack from Hive Fleet Leviathan.
- Gloom Walkers
Underwater action between Space Marines and a mysterious alien foe.
- The Dark Krakens
An Ultima Founding Chapter and Successor of the Salamanders the Dark Krakens have a particular set of skills... Fancy fighting an underwater battle? Now you can!
Includes two Narrative Datasheets for two Dark Kraken Characters, Theatre of War rules for fighting battles beneath the Mirror Sea, and a brand new Mission.
WARHAMMER AGE OF SIGMAR

Fantastical Realms: Cities of Sigmar
Pack your bags, kids, we're heading for the big city! Modellers and painters prepare yourselves for a treat – colour schemes and conversions abound for the loyal followers from Sigmar's cities.
Into the Cities of Sigmar
Two exceptional displays featuring the armies of the free cities. If you love clever conversions, you'll love this article.
WARHAMMER QUEST: CURSED CITY

Building Your Party
Wizards, warriors, ranged combatants. Which four characters will you choose for your adventures in the Cursed City?
WARHAMMER UNDERWORLDS

Glory Points
An in-depth look at how games developers create rules for and design Warhammer Underworlds warbands.
AERONAUTICA IMPERIALIS

Vital Cargo
Who needs big guns and huge engines when you can have an Arvus Lighter? Two new missions for using these much beloved and nippy transports.
BLOOD BOWL

Red Cards & Rulekeepers
Seems like the Refs are taking a more active part in Blood Bowl these days. They've even got their own rules. Meddling gits!
THE MIDDLE-EARTH™ STRATEGY BATTLE GAME

The Heir of Isildur™
Aragorn is one of the mightiest warriors in Middle-earth. Here's some tactical advice on how to get the most out of him.
BLACK LIBRARY

I, Behemat
The smallest of the small and the largest of the large wreak havoc and carnage across the lands of Ghur in this short story from Black Library's Eric Gregory.
CARD INSERT
Each physical copy of Issue 466 includes a card insert with the following handy reference information:
- Rules for two named referees in Blood Bowl, Elnos Lawkeeper and Redkur Forgebeard.
- Predators of the Deep Theatres of War table for fighting games in Bianzeer's Hollow from Flashpoint: Octarius.