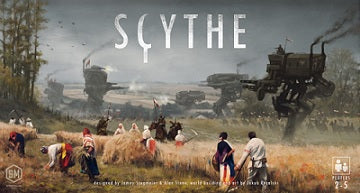 Sale price
$89.99 CAD
Regular price
Number of Players: 1-5
Playing Time: 90-115 Minutes
Recommended Ages: 12+
It is a time of unrest in 1920s Europa. The ashes from the first great war still darken the snow. The capitalistic city-state known simply as "The Factory", which fueled the war with heavily armored mechs, has closed its doors, drawing the attention of several nearby countries.
Scythe is an engine-building game set in an alternate-history 1920s period. It is a time of farming and war, broken hearts and rusted gears, innovation and valor. In Scythe, each player represents a character from one of five factions of Eastern Europa who are attempting to earn their fortune and claim their faction's stake in the land around the mysterious Factory. Players conquer territory, enlist new recruits, reap resources, gain villagers, build structures, and activate monstrous mechs.

Contents:
1 game board
5 dual-layered Player Mats
5 Faction Mats
3 rulebooks and guides
2 power dials
31 Automa cards (solo variant)
28 encounter cards
23 objective cards
42 combat cards
12 Factory cards
25 miniatures
80 custom wooden resources
40 custom wooden meeples
20 custom wooden structures
50 wooden tech cubes & recruits
30 custom wooden stars
15 custom wooden player tokens
80 cardboard coins
6 structure bonus tiles
and more...