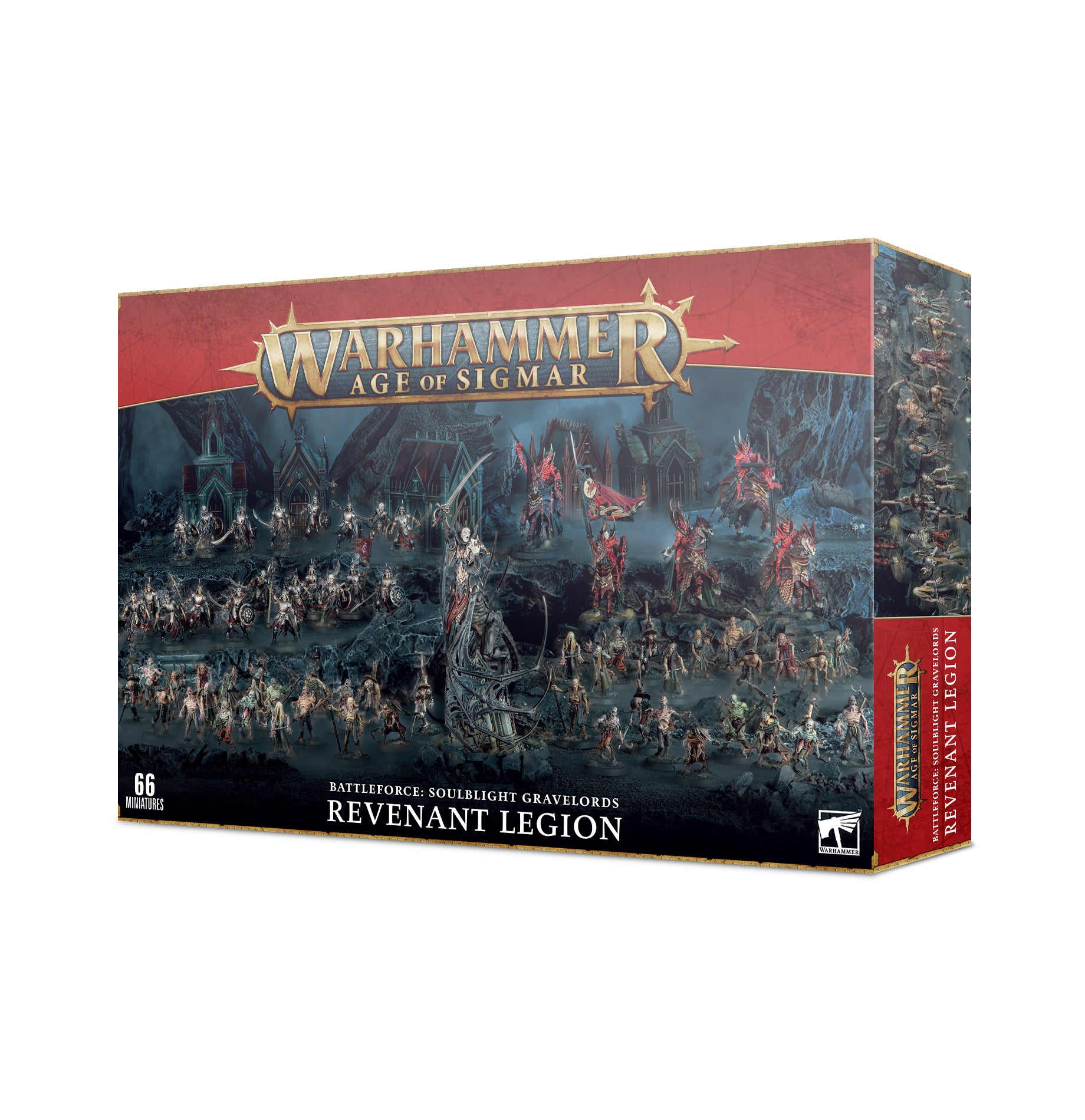 Battleforce: Soulblight Gravelords – Revenant Legion
Regular price
$212.50 CAD
Sale price
$212.50 CAD
Regular price
$250.00 CAD
Battleforce: Soulblight Gravelords – Revenant Legion
This set includes the following multipart plastic kits:

1x Vengorian Lord (can also be built as Lauka Vai, Mother of Nightmares)
5x Blood Knights
20x Deathrattle Skeletons
40x Deadwalker Zombies

The above units are supplied with 1x 80mm round base, 5x 75x45.1mm oval bases, and 60 x 25 mm round bases. These miniatures are supplied unpainted and require assembly – we recommend using Citadel Plastic Glue and Citadel paints.

- Guides to and explanations of the various types of Citadel brushes – what they're used for, and how to take care of them;
- Guides to the various techniques used to paint miniatures – undercoating, basecoating, shading, drybrushing, layering and glazing are covered, with explanations of each technique and practical examples showing you their effects on; - Methods for creating evocative bases for your miniatures to stand on;
- An explanation of Technical paints, and their use in creating special effects like blood and rust;
- 6 Battleplans – these are scenarios that feature the included miniatures, with special instructions for setting them up, each re-creating a specific battle from the rich history of the struggle to dominate the Mortal Realms. By combining the core rules booklet with these Battleplans you'll gradually learn how the Warhammer Age of Sigmar game system works, from basic movement and attacking to controlling objectives and more complex tactics;
- Realms of War – a detailed guide to the Warhammer Age of Sigmar setting, with background on each of the 8 Realms and details of the events that have set in motion the Soul Wars which are blighting each Realm. This includes an explanatory guide to the Stormhosts of the Stormcast Eternals; each of these is its own army with distinct uniforms, tactics and background, as well as the story of the Nighthaunt, the vanguard of Nagash's horrifyingly large undead army.

Also included are a double-sided playing mat used to fight your battles upon (with the inside of the box even doubling as a scenery piece!), 6 6-sided dice and a 12" range ruler.